Diana Alfaro
Diana Alfaro is dedicated to empowering marginalized communities; in particular, she is passionate about contributing to her communities and sustaining and creating more economic wealth in Latinx communities. She serves the State of Illinois as the Latinx Business Development Manager for the Office of Minority Economic Empowerment (OMEE) at the Illinois Department of Commerce & Economic Opportunity (DCEO). In her role, Diana serves minority-, women-, persons with disabilities-, and veteran-owned small businesses with a focus on Latinx/o/a and Hispanic-owned businesses. She connects them to crucial resources, services, and incentives available to them through the State of Illinois.  Using an equity centric approach, she creates tailored initiatives and works on addressing systemic barriers that have hindered business growth and development in marginalized communities. 
Diana is an initiative and quality driven professional with a proven record of over seven years of experience with community outreach and over ten years in federal regulation compliance. She earned a Master's of Science in International Public Service and Bachelors of Arts in Political Science and Latin American/Latino Studies from DePaul University. 
In 2021, Diana completed the Chicago Latino Caucus Foundation Leadership Academy. She was awarded the Wintrust Community Banks – Latinx Community Awards and Negocios Now Latinos 40 Under 40 Class of 2020. In 2018, One Million Degrees (OMD), an organization supporting community college students, awarded her the Coach of the Year for her work in coaching two community college students whom she is still close with today. 
Diana is a proud new homeowner and resident of Elgin, Illinois. In her free time she loves to travel, rock climb, visit caves, and find new ways to physically and mentally challenge herself.

Sonia A. Antolec
Judge Sonia A. Antolec is the proud mom of her son, a junior at Indiana University's Kelley School of Business. She devotes her career to actively working to remove barriers to justice for marginalized communities and advocates for social equity in everything she does. Judge Antolec is the first single mom and multicultural woman appointed as a Judge to the Illinois Court of Claims when Governor J.B. Pritzker appointed her in March 2021. She also serves as contract General Counsel to The 1937 Group, Ltd., an Illinois social equity cannabis company.  
She was the Director of People and Legal for The Mom Project. Prior to that, she spent 13 years working in government, including two terms in the Cook County State's Attorney's office. In her second term, she was the Director of Legal Hiring and Recruiting. She was also Deputy General Counsel and Chief Administrative Law Judge for Illinois Healthcare and Family Services. She is a 2017 Chicago United for Equity Fellow, and she chaired the 2016 campaign for Cook County State's Attorney Kimberly M. Foxx. 
Being a first-gen educated woman, Judge Antolec has used her achievements to give back to her community and those who have helped her succeed. She coached Loyola's Hispanic National Bar Moot Court team for twelve years after law school, and founded a city-wide high school mock trial competition that focuses on diversifying the pipeline of students into law school. 
She is a proud alumnus of DePaul University and Loyola Chicago School of Law, and is an adjunct professor for both of her alma maters. She currently serves on the Board of GirlForward where she chairs the Human Resources Committee, the Board of the San Ignacio Society, a group of Hispanic St. Ignatius alumni who help current Hispanic St. Ignatius students, and is Executive DEI Chair for the Loyola Board of Governors. 
Jennifer Banek
Jennifer Banek is a Certified Registered Nurse Anesthetist (CRNA) or nurse anesthesiologist. She has a Master's of Science in Nursing from DePaul University, a certification to practice nurse anesthesia from NorthShore School of Nurse Anesthesia, and a Bachelor's Degree in Biology from Illinois State University. Ms. Banek serves in the United States Army Reserves with the rank of Captain. In 2019, she was mobilized to Al Udeid Air Force Base, located in Qatar, where she was a member of a Damage Control Surgical Team. She is presently the Commander for the 84th Training Command, located at Ft. Sill, OK. Jennifer is the President of the Illinois Association of Nurse Anesthetists and the PAC Chair for the American Associations of Nurse Anesthetists. Ms. Banek was elected to be the Lake County Coroner in December 2020. She is a mentor for a local youth through an organization called College Bound Opportunities.
Ms. Banek grew up in Mundelein, IL, but has also resided in Michigan, Indiana, and England. After earning her undergraduate degree she returned to Lake County to raise her children. She has two daughters, Emma (26) and Lillian (20), and two stepsons, Gabe (17) and Luke (16). Her partner is also a nurse anesthesiologist and serves in the Navy Reserves.
Jennifer enjoys running, traveling, and camping, especially to visit the National Parks.
Nancy M. Bitner
Mrs. Bitner has spent the last 25 years as a teacher and administrator in the public and private sector.  She is currently the Assistant Regional Superintendent of Schools for Alexander, Jackson, Perry, Pulaski and Union Counties in far southwestern Illinois.   
In addition to her years as a teacher and administrator, she has taught at the college level with new teacher candidates.  Her experience also includes being the first downstate Paul Simon Fellow with then Lt. Governor Pat Quinn.  Her fellowship focused on poverty issues, affordable housing, pediatric dental services and school-based health centers.  Mrs. Bitner was recognized as the 2021 Illinois CTE Administrator of the Year, 2008 IPA Legislative Chair,  2004 SIUC Graduate Dean's Fellow, 2004 Paul Simon Fellow and 2002 Outstanding Illinois Educator.
In 2012, Mrs. Bitner was the principal at Sparta Elementary School when it was  recognized as an Illinois Spotlight School, at North Mac Elementary School when it was recognized for leadership in blended PreK programming, served on the Illinois Principal Association Executive Board as Legislative Chair and has written several successful grants. Mrs. Bitner is currently working on her doctorate at Western Illinois University in Educational Leadership and plans to graduate May, 2022.  
Mrs. Bitner and her husband, Dan, of 36 years, live in Murphysboro with their miniature Australian Shepherd Fozzie.  Her son, Doug, is an attorney in Indianapolis and her daughter, Nikki, is a teacher in the Springfield School District.  She has 5 grandchildren; Derrek (15), Kaitlyn (12), Lora (8), Isabella (6) and Alayna (4).  Mrs. Bitner loves to travel and recently completed a trip to Barcelona and Madrid Spain.  
Susan Buchanan
Susan Buchanan is a Midwest native who began her professional career as a family physician in the Humboldt Park neighborhood of Chicago. After nine years working with mostly immigrant and Spanish-speaking patients she transitioned to University of Illinois at Chicago, completing a Master of Public Health degree and residency in Occupational and Environmental Medicine. She is currently a Clinical Associate Professor of Occupational and Environmental Health Sciences and faculty in the Occupational and Environmental Medicine Residency Program, and a practicing clinician in the Occupational Health Services Institute at UI Health. She is the Principal Investigator of research, teaching, and outreach grants pertaining to reproductive and children's environmental health and occupational health and safety. Her work promotes the values and policies of environmental justice, workers' rights, climate change mitigation, and universal healthcare. 
Dr. Buchanan was elected to the Board of Trustees of the Village of Oak Park in 2019. In that role she co-founded the advocacy group Oak Park Climate Action Network (OP-CAN) whose recommendations resulted in the village's climate action planning and new Better Homes Better Planet program in the village government.  She sits on the Board of Directors of PersonalPAC Illinois whose mission is making sure that Illinois always remains a state where abortion is safe, legal, and accessible to every woman. She is also a board member of the Chicago Chapter of Physicians for Social Responsibility, which is dedicated to promoting a healthier Chicago and improved public health worldwide through advocacy and education about the effects of climate change, environmental toxins, and other environmental threats to human health. She is an active member of First United Church of Oak Park and lives in Oak Park with her husband Steve Brown and son Alex.
Tionn Fambro Carter
Tionn Fambro Carter is an Attorney living in Moline, Illinois with her husband and children. She enjoys traveling, attending church, serving the community, and spending quality time with her family and friends. 
Tionn is a graduate of Tennessee State University, B.A., Summa Cum Laude, Valedictorian, Bill Gates Millennium Scholar and Southern Illinois University School of Law, J.D., Thurgood Marshall Scholar and Dr. James E. Walker Presidential Scholar. At SIU School of Law, she participated in the Domestic Violence Clinic and Judicial Externship Clinic. Tionn has also studied Constitutional and Comparative Law abroad at the University of Western Cape, Cape Town, South Africa.
Tionn is a partner at Brooks Law Firm P.C. based in Rock Island, Illinois. Her practice areas include juvenile law, family law, criminal defense, immigration law, and worker's compensation law. She has worked in education as an adjunct professor teaching paralegal studies and criminal justice courses. Tionn seeks to raise awareness on the crisis of confidence in the courts due to concerns about fair and equal access to our courts and implement the message that our courts best serve justice when they are inclusive and represent the diverse populations they serve. In her commitment to public interest law, Tionn has served as court appointed counsel for Juvenile Abuse, Neglect, and Delinquency cases. She considers her appointments as an opportunity to address the disproportionate contact minority youth have with police and decrease the numbers of minority youth cycling through the court system.  Her commitment to pro bono clients earned her the Rock Island County Bar Association's Volunteer Lawyer of the Year Award in Recognition of an Outstanding Commitment to Serving the Legal Needs of the Poor.
Tionn serves as the Legal Redress Chair of the Rock Island County Branch of the NAACP, the Positive Interaction with Police Committee of the Quad City Alliance for Immigrants and Refugees, the Rock Island County Democratic Women's Club, the Rock Island County Bar Association, the Illinois State Bar Association, and the American Immigration Lawyers Association, the Human Rights Commission for the City of Moline, a board member of WQPT PBS, and the Financial Secretary the Davenport Alumnae Chapter of Delta Sigma Theta Sorority Inc. However, she is most proud of her membership in the Carter Household as a wife and mother.
Deborah Cosey-Lane
Deborah is Financial Secretary/Treasurer of Amalgamated Transit Union Local 308, (Rail Transportation for Chicago Transit Authority).  After being elected by fellow members of her union, she assumed the office in 2018.  Deborah has been a member of her union for 31 years. In 2021 Deborah was sworn in by International President John Costa as the first female President of ATU Illinois Joint Conference. 
In 2015 Deborah was asked to help organizers on Chuy Garcia's mayoral campaign. Then, President Kenneth Franklin was impressed with her work and appointed her as the Union's first Organizer to help with the union contract fight against the CTA. Deborah was introduced to Emeritus Karen Lewis who mentored her along with other CTU and ATU organizers. She learned strategies that helped prepare members for conflicts with companies and how to gain leverage in negotiations. 
Deborah has worked hard engaging members in political affairs and participating with other allies in Rallies and Strike efforts: SEIU, CTU, IBEW, Arise Chicago, Community Renewal Society, UAW, CWTA, Unite Here, Indivisible IL, UWF, Fight for $15, Job with Justice, Citizen Action,Women's March, Poor People Campaign, Polk School, Midwest Conference, Women Employed, ERA, Cook County Census Faith Committee, Operation Push, Single Payer , NAN, NAACP, At-large Delegate for Joe Biden / Kamala Harris, Gov. J.B. Pritzker, Mayor Lori Lightfoot, Sen. Ossoff & Warnock campaigns. Deborah has numerous awards: CLUE, IDW and We Will Women of the Year.
Deborah is the mother of three children – Erin, Erwin and Nicholas Lane. She is the daughter of Mamie L. Cosey and the late Rev. Richard C. Cosey from East St. Louis, Illinois. Deborah is a proud member of Chicagoland Christian Center; her Spiritual Leaders are Prophetess Catherine & Apostle Marshall Davis. 
Joanne So Young Dill
Joanne serves as Chief of Strategy and External Affairs for Commissioner and Chairman of Finance, Marcelino Garcia, of the Metropolitan Water Reclamation District of Greater Chicago (MWRD) and takes great pride in her work protecting the region's water environment. Joanne provides policy guidance, directs research, and prioritizes her role as a resource for the community. Joanne has led critical water protection campaigns to ensure long-term conservation practices and designed innovative public engagement programs with the City of Chicago and Cook County. In 2019, Joanne was appointed by Governor Pritzker to the Great Lakes Protection Fund Board.  
Joanne received her undergraduate degree in Economics from Boston University. Beantown has a very special place in her heart; it's where she met her husband, bought their first home, and took their infant son for strolls through the grounds of the magical Arnold Arboretum. Outside her professional responsibilities, she enjoys playing music, swimming, traveling, and exploring new trails and dining spots. She looks forward to spending her time learning from the talented group in the 2022 IWIL Training Program.

Kimberley Egonmwan, Esq.
Kimberley Egonmwan, Esq. is a master policy expert, communicator, political commentator and philanthropist. A practicing Attorney, she is also a trusted voice of the community, most recently as Host of The WVON 1690AM Afternoon Show at Midway Broadcasting Corporation. As a Legislative Attorney skilled in the area of negotiating legislation and consensus-building, Kim began her legislative career as Legal Counsel and Staffer for the Illinois Senate Committee on Revenue. As Director of the Illinois Senate Democratic Caucus Office, she advised Senators on the impact of proposed legislation impacting over $32 Billion in Revenue. She continued her policymaking career as Assistant Commissioner for the Chicago Aviation System, shepherding all legislative and constituent matters impacting O'Hare and Midway International Airports and the O'Hare Modernization Program. She later served as Legislative Chief for the Illinois Department of Public Health, setting the Legislative Agenda, coordinating administration of 70 Boards and Commissions and ensuring passage of strong Public Health Policy for the people of Illinois.
A graduate of The University of Chicago Laboratory Schools, The University of Illinois at Urbana-Champaign and The John Marshall Law School (now known as UIC LAW), Kim stands on the front line, using her voice and skills to improve the lives of Illinoisians in the areas of criminal justice, women and girl issues, African-American equity and voter empowerment. She currently leads national social action and election protection initiatives resulting in hundreds of thousands of new voter registrations, mobilization and high election turnout. She is also the first Chicago Ambassador for the Smithsonian National Museum of African-American History and Culture, a member of the Ravinia Associates Board, member of the Congressional Caucus on Black Women and Girls workgroup and an officer of the AKArama Foundation, Inc. 
Tiffany Holmes
Tiffany Holmes is a southside native of Chicago where she currently serves as the Director of Mission Outreach of Fourth Presbyterian Church. As the Director of Mission Outreach, she is responsible for the operational success of Fourth Church's ministries. Prior to this position, Tiffany has experience with public, private, and nonprofit organizations which include the AARP Foundation, Chicago Public Schools, and the Illinois Department on Aging.
 While serving as an Assistant Project Director with the AARP Foundation, Tiffany became a fierce advocate for underprivileged and underserved communities facing food insecurity, workforce development and the opioid epidemic. Tiffany's leadership roles have given her the foundation to conduct work in all of Chicago's 77 neighborhoods.
As a member of the Auburn Gresham community, Tiffany's upbringing encompassed her learning compassion and industriousness from her mother who is a career nurse of nephrology and father who is a veteran of the Vietnam war. 
She holds a Bachelors of Community Health from Chicago State University, MPA in Public Administration with a concentration in Public Management and Local Government from the University of Illinois at Chicago. While pursuing her education, Tiffany was a congressional intern with the Office of Congresswoman Robin Kelly. This congressional internship galvanized her passion for social injustices such ageism, racial equality, and affordable housing.
Currently, Tiffany Holmes serves as a Commissioner with the Commission on Volunteerism and Community Service. The purpose of this commission is to improve Illinois communities by enhancing traditional volunteer activities and supporting national service programs.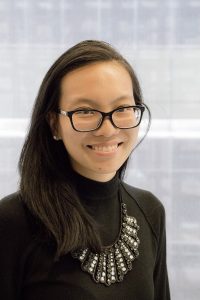 Debbie Liu
Debbie Liu is a Chicago native and daughter to immigrants from Hong Kong. She was raised with heavy political influence as her mother participated in solidarity student Tiananmen Square protests in the '80s. Debbie continues her mother's work in bringing about change for future generations.
Debbie is an Associate at Metropolitan Planning Council (MPC), an independent planning and policy organization driving change in the Chicagoland region. She is a dedicated community advocate whose priorities include equitable community development and planning for historically marginalized communities. She received her Master of Public Health degree from the University of Illinois at Urbana-Champaign and is a trained Solidarity Heals racial healing circle facilitator. 
Debbie served on the Chicago Advisory Redistricting Commission convened in 2021 by Change Illinois, an independent effort to include community input and transparency when redrawing Chicago's wards following the 2020 census. In addition, she has worked on the 2nd District State Representative's campaign, which is represented by Theresa Mah, the first Asian American to Illinois's state legislature. 
Debbie currently provides community zoning and development oversight and transparency through the 25th Ward Zoning Advisory Board and 78 Community Advisory Council. She also serves on the boards of Active Transportation Alliance Board and Ping Tom Park Advisory Council.
She was recognized for her contributions in "20 in Their Twenties" by Crain's Business magazine in 2020. Debbie enjoys exploring different cities and National Parks in her free time. She lives in Chicago with her husband, son, and rescue dog.
Kelli Merrick
Kelli Merrick, lifelong Cook County resident, was born and raised in the suburb of Chicago Heights, Illinois. She attended Florida A&M University and Governor's State University. After completing her Bachelor's in English, Kelli began working for the City of Chicago Heights, eventually holding the position of HR/Program Coordinator before being elected 7th Ward Alderman of the City of Chicago Heights in 2019.
 Kelli is a former member of the Bloom Township High School District 206 Board of Education, a former member of the Chicago Heights School District 170 Board of Education, former President of the St. Agnes Catholic School Athletic Board, and a current member of the Union Street Art Gallery Board. She is an active community volunteer, coaching at the elementary and high school levels and serving as program coordinator for various sports within the local grade school conference.
Since 2019, Kelli has continued to organize events to encourage continued community involvement in the agriculture, the arts, and education by creating space to build bridges between people and communities that celebrate differences and highlight commonalities. Kelli currently works as the Assistant to the Superintendent of Bloom Township High School District 206 which gives her an opportunity to merge her ability to influence civic engagement and her passion for impacting positive change in her community.
Outside of her full-time job and status as a public servant, Kelli is mother and "mom-ager" to two active and talented teenage daughters, wife to her college sweetheart, and daughter to her retired parents.