Lisa Badger
I am a lifelong Springfield resident. I graduated high school at Springfield Southeast High School.  After attending some college, I settled down to work, primarily in the hospitality industry.  I did everything I could to raise my daughter. I returned to school "later in life" and graduated with my Licensed Practical Nursing license.  I went on to obtain my Associate's Degree from Lincoln Land Community College, but I did not stop there.  I obtained my Bachelor's Degree in Legal Studies from Dominican University and went on to get my Master's Degree in Conflict Resolution.
While in graduate school, I taught at Springfield Southeast High School, Capital Area Career Center, and was a nurse at Logan Correctional Facility.  While my heart will always be in nursing and with front line responders, I realized there are multiple ways in which one can care for and serve their community.  
Since then, I have worked for the State Treasurer's office as a Community Affairs Specialist, traveling across the state to meet with Business, Educational, Religious, and Elected leaders and officials, but most importantly I met and worked with constituents.  
Throughout critical times during the pandemic in 2020, I followed my passion for serving the community by becoming a full-time Business Agent for Teamsters Local 916, primarily representing members in public sector government agencies.
I have two amazing children. My daughter is a junior at the University of Illinois, studying International Communication and my son attends middle school. They truly are my pride and joy. 
Public service is a passion to me. Serving my community and helping others is ingrained within me from being raised by a single mother, who never refused a meal to anyone in need- despite what little we had. In my spare time, I love watching and attending baseball games and concerts.
Chaundra Bishop
Chaundra Bishop has been a public health professional and community leader for nearly a decade, working collaboratively with local health departments, hospitals, and community-based organizations in both the nonprofit and government spaces.  With a passion for reducing healthcare inequities; Chaundra finds herself at the intersection of civil rights and public health in the pursuit to fight for ethical and anti-racist public health practices. Chaundra has led programs in several communities throughout the state with particular attention to improving health equity and creating strategies to increase visibility, participation, and the well-being of underserved communities through health education and promotion. Underserved communities are particularly vulnerable to premature and preventable deaths so by working with other organizations, she has been able to make an impact in areas such as reduction of unintentional injury, substance abuse, and chronic disease prevention. 
Chaundra has previously worked for three local health departments in various capacities and the Springfield YMCA as the Director of Healthy Community Initiatives. In her current role as a Champaign Regional Health Officer for the Illinois Department of Public Health, where she consults with County Boards of Health and Local Health Department Administrators in interpreting the public health rules and regulations; assists with planning and implementing policies and procedures, in accordance with the Director's Office. Additionally, Chaundra was elected to the Urbana City Council in 2021, serves on the Planned Parenthood Illinois Action Board of Directors, and is the president of the Urbana-Champaign chapter of Sigma Gamma Rho Sorority, Inc. 
Chaundra holds a Bachelor's Degree in Biological Sciences and a minor in Chemistry from Quincy University along with a Master's in Public Health Science from Western Illinois University. When she isn't working or volunteering in the Urbana area, you can find Chaundra spending time with her seven-year-old Yorkie, Riley James, reading, or traveling.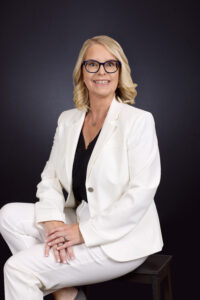 Marcy Cascio-Hale
Marcy Cascio-Hale grew up in northern Illinois and became a southern Illinois resident in 2006 when she enrolled at the SIU School of Law. She graduated with her Juris Doctorate and Master of Laws in 2009 and 2010 respectively. 
Marcy has a passion for public service, shown by her most recent appointment as the first female State's Attorney in Williamson County, managing 9 attorneys and 13 staff, and improving the relationship of the office with local law enforcement and community caretakers.  In that position, she worked with judges, prosecutors, attorneys, clients, victims and victim advocates, juvenile victims, law enforcement, probation officers, and the general public.  Additionally, her passion for serving her community is shown with experience as assistant public defender in Jackson County, handling a large docket of misdemeanor and felony criminal cases, representing clients in court from first appearance to motions to trial. 
Previous to this criminal legal experience, she worked in private practice serving clients throughout southern Illinois with protective orders, dissolutions and family cases, guardianships, juvenile cases, adoptions, appeals, etc.  With this position, she worked again with judges, attorneys, GALs, families, and children.  Currently, she is employed with the Fifth District Appellate Court, drawing on her desire to ensure the legal system works at its optimal level – giving her a wide knowledge base on many areas of law.
Marcy also advocates for local business with her leadership in the local BNI chapters and membership in BNI WIN, Wealth In Networking.  She organizes mixers, networking, and vendor events for local area businesses while working with local city government, chambers, business professionals, and residents, in an effort to give back to her community.  Marcy serves on the Carbondale Chamber of Commerce Board.
Marcy resides in Murphysboro with her husband, Christian, and has one son, Gage. 
Taryn S. Fisher
Taryn ran and won her first campaign in April 2021 and now serves her community with honor on The Village of Lake Bluff Board of Trustees. In the summer of 2022 following the Uvalde and Highland Park mass shootings, Taryn established the North Chicago, Lake Bluff Lake Forest Moms Demand Action Group, where as a co-lead she organizes and activates approximately 900 members in meaningful efforts to stop gun violence.  
Taryn is a managing partner of Sage Counsel, LLC, serving clients throughout Cook and Lake County. Taryn established a strong reputation as a zealous, solutions-based client advocate in all family law matters. She centers her practice on a future-focused  approach and acutely promotes alternative dispute resolution. Taryn serves as a Guardian Ad Litem  and Child Representative in both Probate and Family Law divisions of the 19th Judicial Circuit Court of Lake County, a volunteer mediator for the 19th Circuit Alternative Dispute Resolution Center and is a Board Member for Collaborative Divorce Illinois. She is also a mentor for Green House Scholars, an education non-profit dedicated to cultivating a community of leaders who will change the communities of the world. 
She graduated Law School from University Chicago Loyola in 2012 and is proud Rambler. Taryn is a wife and a mother to two wonderful children who are her reason for being the change she hopes to see in the world.
Celeste Flores
Celeste Flores, a child of immigrant parents, serves as Director of Community Building at Mano a Mano Family Resource Center. She is responsible for developing and implementing civic engagement, immigrant community organizing, and policy advocacy. She also oversees the Democracy in Action program and the Liderazgo program for emerging leaders in Lake County.
Celeste has also spent the past nine years working in the national environmental justice movement. Her work with frontline community members has drawn national attention to the environmental injustices associated with corporate polluters in Lake County, Illinois. As the former Co-Chair of Clean Power Lake County, she has built pivotal relationships with coalition partners and elected officials around the country, and champions for environmental justice and frontline communities to be part of conversations shaping policy decisions. In recognition of her state and federal legislative work, she has been awarded numerous recognitions. Celeste received the 2017 Archdiocese of Chicago Hispanic Ministry Gaudium et Spes Award, she was a recipient of the 2020 Energy News Network 40 under 40 award, and Celeste was the 2020 guest of Senator Tammy Duckworth for the State of the Union.
Celeste recognizes that political engagement is critical at every level of government. In 2022 she was appointed to the Warren Newport Library Board. Celeste was named to the 2022 Class of the Edgar Fellows Program.
Doresah A. Ford-Bey
Doresah Ford-Bey is a resourceful leader with over 25 years of extensive experience in communications, strategy, and operations.  Ms. Ford-Bey began her professional career as a financier at the Vanguard Group of Investment Companies.  She served in various financial, accounting, risk management, and supervisorial roles.  Doresah's ability to resolve highly complex issues, manage projects, and communicate effectively led her to pursue a career as a brand marketer at McNeil Nutritionals, a Johnson & Johnson company.  In this role, Doresah led product promotion, innovation, and development.  In 2009 Doresah transitioned to public education to assist large urban districts in developing sound business and accountability (academic and financial) protocols.  
In 2017, Ms. Ford-Bey began working on the campaign of Governor JB Pritzker and Lt. Governor Juliana Stratton.  After the election, Doresah assumed a role with the Office of the Lieutenant Governor.  Ms. Ford-Bey leveraged her communication skills and business know-how to build the office's brand, establish and execute initiatives, oversee messaging, direct public affairs, supervise staff, and co-lead the office.  During the administration's first term, Doresah held various positions in the Office of the Lieutenant Governor, including Director of External Affairs, Deputy Chief of Staff – Communication & External Affairs, and Assistant Chief of Staff.
Doresah serves as the Chief Programs Officer and acting Chief Communications Officer at the Illinois Criminal Justice Information Authority.  Ms. Ford-Bey holds a Bachelor of Arts in Business Administration with a concentration in Finance and a Master of Business Administration with concentrations in Corporate Finance and Marketing from Clark Atlanta University.  Doresah is a fellow of the Chicago Urban League's inaugural IMPACT Leadership Development program.  She helped organize IMPACT's alumni association and was the first Chair of the Civic Engagement and Governmental Affairs Committee.  Doresah also graduated from the Broad Residency in Urban Education (2011).  
Janelle Gurnsey
Janelle Gurnsey serves as the Deputy Chief of Staff – External Affairs and Communications for the Office of the Illinois Lieutenant Governor, Juliana Stratton. She uses her voice and leadership skills to help serve all Illinoisans, making sure communities that have often been ignored know that they are part of our democracy. 
She helps spearhead several programs and initiatives, including the Ag Connects Us All Initiative focused on bringing equity to Illinois' largest industry, Agriculture, while also working to address food insecurity throughout Illinois. Janelle manages the innovative partnership with Illinois Main Street, working to revitalize commercial corridors throughout the state and spur economic development in communities. She helps co-lead the Teacher Pipeline Initiative, to address the nationwide teacher shortage's impact on Illinois and to create pathways for equitable opportunities for all educators. 
Janelle works to support and uplift a broad portfolio of councils and committees within the Lieutenant Governor's office, including the Governor's Rural Affairs Council, the Council on Women and Girls, the Rivers of Illinois Coordinating Council, the Military Economic Development Committee, and the Justice, Equity, and Opportunity Initiative. She serves on the Rural Partners Board of Directors, to address the unique needs of Illinois' rural communities. 
Prior to working in government, Janelle began her public service career in higher education, honing her skills in communication, project management and event production through her role as a communications professional at the University of Illinois Springfield. 
Janelle holds a Bachelor of Science in Media Studies from the University of Illinois Urbana-Champaign and a Master of Arts in Communication from the University of Illinois Springfield, graduating at the top of her class. She is a lifelong Illinoisan, actively engaged in service to her community. Janelle and her husband Neil live in Central Illinois, where they lovingly raise their three young children.
Julienn "Julie" Kaviar
My name is Julie Kaviar. I am a social justice champion, with a diverse background, policy knowledge, and zeal for making inclusive change.
My family roots instilled the importance of giving back and building up my community. Both my parents and grandparents worked in schools. My mother is a Caribbean immigrant who worked tirelessly to ensure a better life for her children. My grandfather was a Jewish WWII veteran who enlisted at age 17 and taught me the importance of fighting to repair the world.
For the past decade, I have worked in public safety, health, and social services policy for government and nonprofits. As Chief of Staff to Cook County Commissioner Scott Britton, I expanded ballot language access, wrote the first suburban Cook County renters' rights legislation, led the County's adoption of the Illinois NAACP and Illinois Association of Police Chiefs "10 Shared Principles" for police reform, and launched the Cook County United Against Hate initiative to empower everyone to learn about systemic racism. Working as a Deputy Press Secretary for the Mayor's Office public safety team during a period of great reform from 2016 – 2019, I was a senior-level strategist on communications and outreach for issues related to police reform and public safety. 
I received my undergraduate degree from Tufts University as a Balfour Chenault Scholar, am a graduate of the United Counties Council of Illinois (UCCI) Leadership Academy at the University of Illinois, and am a proud alumnus of Prep for Prep. I was honored as a 2022 Jewish United Fund Chicago 36 Under 36  for my career catalyzing progressive reform.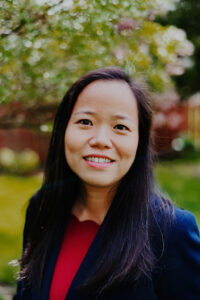 Linh Nguyen, Ph.D.
Linh Nguyen /Lynn Win/ (she/her) is a mother, a spouse, and a chemistry instructor at Northern Illinois University. Linh is also a lifelong advocate for democracy, a local activist, and a past President of the League of Women Voters of DeKalb County, IL. 
Linh ran and lost her race for the DeKalb County Clerk and Recorder's Office in November 2022. Linh's Ph.D. training as a computational scientist and her experience as the President of the League of Women Voters of DeKalb County made her the most qualified person to deliver free and fair elections and to implement cyber-secure and effective record-keeping. 
Linh did not win in this election, but she laid a stepping stone for the next Democratic candidate to run for a seat in the County and State government. Linh challenged the status quo of politicians choosing constituents in DeKalb County. Traditionally in DeKalb County, if one aspires to run for a county-wide office, she must be affiliated with the Republican Party. The same is true for State House and Senate seats. However, Linh's campaign changed that. The comfort of winning elections in DeKalb County simply by party affiliation can no longer be assured. 
Linh's story didn't start on Nov. 8th, 2022. And it certainly will not end there. Linh is a first-generation immigrant with a Ph.D. in science who challenged the Republican establishment in DeKalb County. Linh's story is one of challenges, courage, determination, and excellence – indeed, an "only in America" story.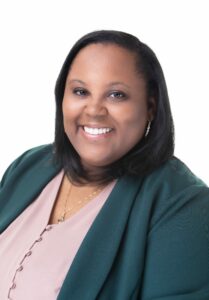 Micaela Smith
Micaela Smith is an active millennial from Lansing, IL. She earned a bachelor's degree in health administration from University of Illinois, Urbana-Champaign and an MPH & MBA from St. Xavier University, Chicago, IL.
She is the Manager of Community Relations & External Affairs for Thornton Township, mainly responsible for cultivating meaningful and sustainable partnerships with community stakeholders and local officials. She is also the Founder/CEO of Le Penseur Group, LLC., a property preservation business. Prior to these roles she also served as an Assistant Director of Government Affairs & Community Relations and former Chief of Staff to State Representative of the 33rd District.  
Aside from her professional work, Micaela is a founding member of Building Strong Millennials, an organization whose mission is to empower millennials to improve themselves and their communities through education, entrepreneurship, and civic engagement. In addition, she serves on the board of directors for Project Increase, a nonprofit dedicated to subsiding poverty through education and opportunity. Driven by her passion to affect change and recognizing young females need for mentorship, Micaela became a Girl Scout Co-Leader for the Southland area for four years.
Due to her volunteerism and extensive work ethic, Micaela was appointed to the Lansing Human Relations Committee in 2018; appointed & elected to Lan-Oak Park District in 2019. She is a Trustee for the Village of Lansing making history in April of 2021 as the first African American elected. She is also a member of the National Association for Professional Women (NAPW), and an AmeriCorps alumnus.  In 2015, she was named VIP Woman of the Year by the NAPW for achieving exceptional success and most active in her community.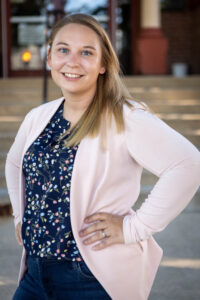 Elisabeth Ward
Elisabeth Ward graduated from Greenville University with a Bachelors of Arts in Public Relations and Human Resource Management in 2011. She then worked as a project manager for Epic Systems in Madison, Wisconsin, designing and implementing the usability testing required by the HITECH act to ensure the meaningful use of healthcare software.
While in Madison, Elisabeth began volunteering with CASA, an organization that trains individuals as Guardians ad Litem for children and youth in the family court system. This experience sparked a desire to better understand and create change in the systems which impact children and families. With this, Elisabeth returned to Illinois to complete a Master of Social Work and Master of Elementary Education at Washington University in St. Louis. While at the Brown School of Social Work at WashU, Elisabeth was given the distinction of Wendt Fellow, a program which prepares future educational leaders to bring a social justice and trauma informed lens to the work. Elisabeth worked as a practicum student in the Clark Fox Policy Institute, analyzing potential policy changes surrounding the childcare subsidy cliff and preparing documentation to assist Missouri policy makers. She was named a Clark Fox Policy Institute Graduate Policy Scholar.
After graduation, Elisabeth worked as an educator at the Arch Community School, a trauma informed practice and social-emotional learning focused elementary school in St. Louis. 
Elisabeth enjoys volunteering in her community as Board Secretary for Our Common Ground, a fine arts nonprofit in Bond County. She is also the co-founder and director of Bond County Area Theater, a youth community theater organization with the goal of bringing theater experiences to children and families in Greenville and surrounding communities. She is also actively working to establish a CASA branch to support the foster children in Bond County. 
Laura Yepez
Laura Yepez is a Chicago entrepreneur who owns and operates a boutique Bed & Breakfast in the heart of Wicker Park.  Previously, she owned a popular neighborhood bakery that helped navigate the rebirth of the Wicker Park business community.  She currently serves on the executive board of the Wicker Park Bucktown Chamber of Commerce, President of the Chicago Bed and Breakfast Association, and works full time as the VP of Human Operations and Accounting for a start-up digital media company.
She has over twenty years of advertising experience working on blue chip accounts at Publicis and is well versed in digital, radio, tv and outdoor media.
Laura has a lifelong commitment to community.  After graduating from a local public high school, she was recruited to attend Brown University and graduated with a degree in Urban Studies.  While attending Brown University, Laura worked in Washington DC with a community organization dedicated to educational advancement of inner-city youth.
After graduation, she began working in the Illinois General Assembly supporting a Latina representative and leading media production for house members.  Laura continues to dedicate time and resources on political campaigns, believing that active participation in grassroot efforts is critical to the advancement of our political environment.
Laura is the daughter of Mexican immigrants and is proud to represent women in business and be a mentor for other Latino business owners. She attributes her success to a strong work-ethic instilled in her by her parents.
And as a mother of two Chicago Public School students, she is deeply concerned with safety in Chicago neighborhoods and violent crimes that affect families and the business community across Chicago. She believes in equitable investment of public resources to support disenfranchised areas and community-led efforts to address local issues.