Upcoming Events
We are looking forward to upcoming events this summer. Please stay tuned for more information regarding upcoming alumnae events coming soon. In the meantime, we encourage you to stay connected with us virtually through Facebook and Twitter. We will post frequent updates.
Past Events
2022 Annual Spring Fundraiser: The Future of Reproductive Rights
Thank you to the passionate community that came together to support our spring fundraiser and tune into the important, timely discussion on abortion with Planned Parenthood Action Fund Executive Director Kelley Robinson and Columbia law professor Carol Sanger. A special thanks to Senator Dick Durbin, Hon. Barbara Flynn Currie, and Hon. Toi Hutchinson for joining in the conversation. We are so grateful for all of your help in propelling the next generation of pro-choice women to elected office in Illinois to fight for our reproductive rights.
2021 Dawn Clark Netsch Policy Forum
Thank you to the experts and guests who joined us for our Annual Dawn Clark Netsch Policy Forum where we discussed "Public Health Disparities: COVID-19 and Beyond". The insightful discussion featured the perspectives of a public policy expert in Cook County – Cook County Health Director of Policy Kathy Chan, a statewide leader in public health oversight – Director of the Illinois Department of Public Health Dr. Ngozi Ezike, and an infectious disease expert and practicing physician downstate – Dr. Vidya Sundareshan. If you missed it, don't worry. You can watch the full conversation HERE.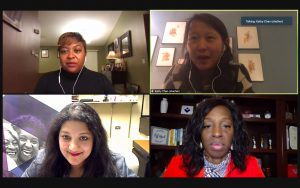 2021 Trailblazers Award Reception
Huge thank you to everyone who joined us to honor former Attorney General & IWIL Founding Mother Lisa Madigan at this year's annual Trailblazers Award Reception. We had very meaningful conversations with Attorney General Kwame Raoul, Senator Dick Durbin, and many of Attorney General Madigan's friends, colleagues, and supporters about the difference she has made in Illinois. We are so grateful for Attorney General Madigan's trailblazing leadership and for all who support IWIL Training Academy.