Upcoming Events
2021 Spring Fundraiser: When Women Lead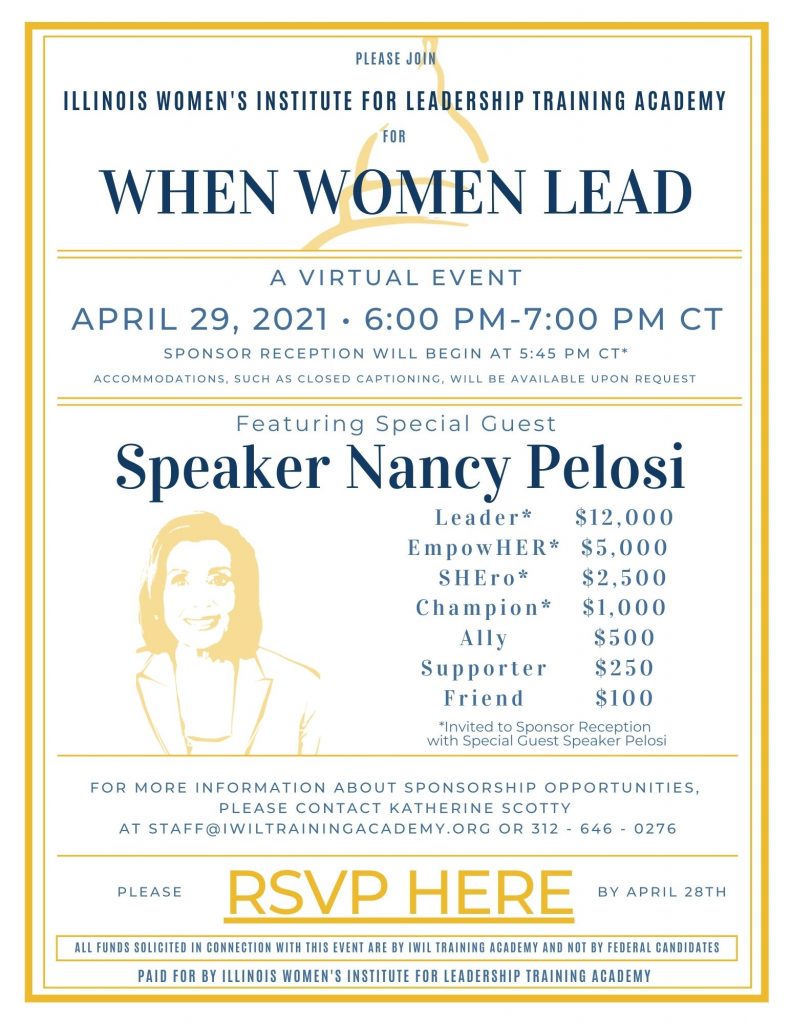 In 2002, Congresswoman Nancy Pelosi joined IWIL for our first ever fundraiser. This year, nearly 20 years later, we are thrilled to welcome her back to IWIL Training Academy! Please join us for this year's virtual spin on our When Women Lead event. We are so excited to celebrate Speaker Pelosi's leadership on Thursday, April 29th from 6:00PM – 7:00PM CT. 
IWIL Training Academy's fundraisers allow us to offer a year-long program at no cost to our class members. We hope you'll join us on April 29th! You can RSVP HERE. 
Past Events 
2020 Annual Fall Fundraiser: Women Who Win
Our first virtual fundraiser, Women Who Win: A Conversation with Female Trailblazers, was a huge success! Thank you to our special guests, DCCC Chair Cheri Bustos (IWIL Class of 2006), Senator Tammy Duckworth, and DSCC Chair Catherine Cortez Masto, who spoke candidly to us about their careers, the current political climate, and what they are doing to empower women to run for office. Thanks also to IWIL Founding Mothers former Illinois Attorney General Lisa Madigan and Congresswoman Jan Schakowsky as well as Senator Dick Durbin for joining the conversation, and for your ongoing support of IWIL Training Academy. This engaging conversation left us inspired and empowered to get to work to elect more women. Big thank you to everyone who joined!
Dawn Clark Netsch Policy Forum 2020
We had a full (virtual) house for our Annual Dawn Clark Netsch Policy Forum on Today's Civil Rights: Reimagining Public Safety. Thank you to everyone who joined us! A special thank you to our presenters State's Attorney Kim Foxx, Lieutenant Governor Juliana Stratton, Ralph Martire, Toi Hutchinson, Representative Jehan Gordon-Booth, and Police Chiefs Lou Jogmen, LaDon Reynolds, and Kristen Ziman. Also a big thank you to our President Barbara Flynn Currie and Highland Park Mayor Nancy Rotering for moderating portions of the forum. If you couldn't make it, watch the discussion on our YouTube! 
Winning Women Alumane Panel Discussion 2020
Thank you to all alumnae who joined us for "Winning Women: Overcoming Adversity in Primary Elections", our virtual panel discussion with women who recently ran in competitive primary races. Alumnae and the Class of 2020 had the opportunity to learn from Commissioner Kim Du Buclet, Betsy Dirksen Londrigan, Marie Newman, and Representative Theresa Mah about overcoming campaign challenges, sexism, and adversity along the trail. Thank you to Representative LaToya Greenwood for moderating this discussion!